Jenkins - High-Resolution Dashboard (see screenshot above)
Jenkins - Single Job Dashboard
Jenkins Telegraf configuration
Variables for jenkinJobNames, jenkinsBucket, and jenkinsHostnames. You will need to update the value for these through the InfluxDB UI. Settings > Variables after you've installed this dashboard template
Bucket handled by variable jenkinsBucket
Label jenkins applied to all resources
Job Duration Check a threshold alert
Node Health a deadman alert based on the mem_total
Quick Install
If you have your InfluxDB credentials configured in the CLI, you can install this template with:
https://raw.githubusercontent.com/influxdata/community-templates/master/jenkins/jenkins.yml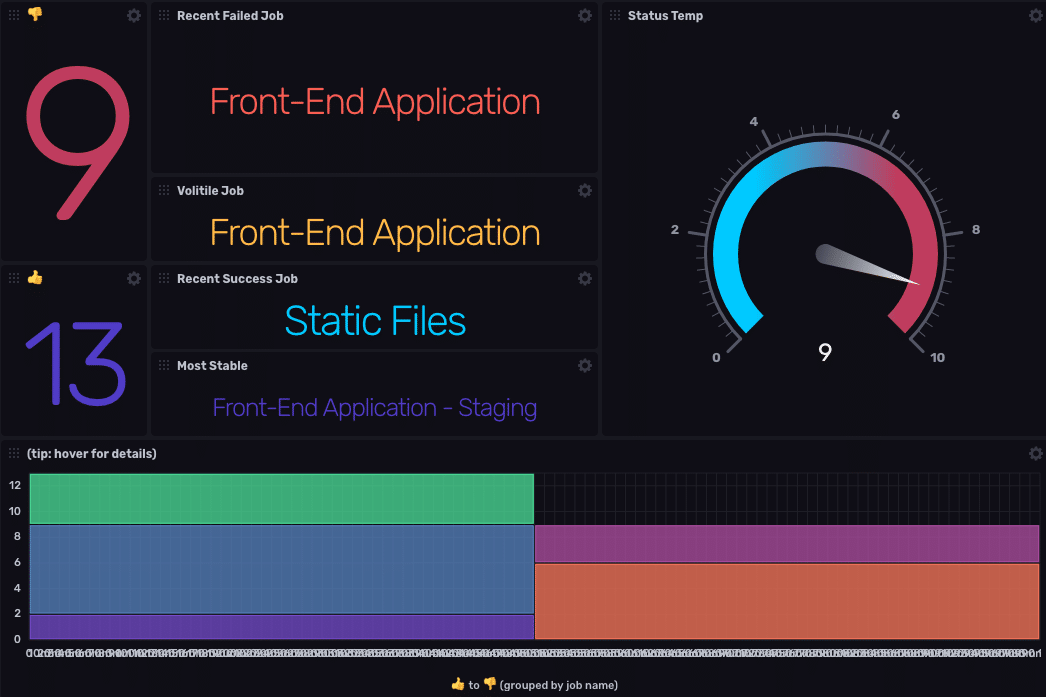 Jenkins monitoring dashboard
For years, Jenkins has been seen as one of the best open source automation servers available and is used by people all over the world. It was designed to allow developers to not only reliably build and test their software, but to deploy it to their end users as efficiently as possible as well.
In addition to making it easier for developers to integrate changes into a project, it also makes it easier for users to obtain a fresh build as well — thus creating an exceptional experience for both parties at the same time. It's highly portable, free of cost and highly customizable — making it an ideal solution for any project that you're currently working on.
A critical part of DevOps always involves Continuous Integration/Continuous Deployment, and Jenkins is the most popular Continuous Integration tool.
Because so many teams rely on Jenkins, it is important to monitor Jenkins to ensure that your build process is working smoothly and efficiently. In particular, different jobs require different levels of resources so it is important to monitor how the jobs are doing to minimize failures.
This Jenkins Monitoring template will allow you to understand:
The state of the most recent jobs
In which environments the jobs are successful or failing
How much resources each job is consuming since a Jenkins server has limited capacity
How to use Jenkins Monitoring Template
After making sure that your InfluxDB credentials are properly configured within the CLI, you can easily install the Jenkins monitoring template with the following command:
https://raw.githubusercontent.com/influxdata/community-templates/master/jenkins/jenkins.yml
Note that in order to properly collect information from your Jenkins server, you will need the following items:
The appropriate URL of your Jenkins instance
The username associated with your Jenkins administrator account
The correct password for the above account
No additional configuration will be necessary to gather this data beyond those valid credentials as outlined above. You can, however, update the values for variables like jenkinJobNames, jenkinsBucket and jenkinsHostnames as you need.
There are a few adjustments that you'll have to make to your Telegraf Jenkins configuration, however, to make sure everything displays properly. To find out more about the required environmental variables in the configuration, consult the following link.
Key Jenkins monitoring metrics to monitor
Some of the most important Jenkins monitoring metrics to pay attention to include:
Recent Failed Job
Status Temp
Volatile Job
Recent Success Job
Most Stable
The solution to monitor your entire infrastructure stack, including servers, containers, databases and cloud services.
Learn how to create InfluxDB Templates to Make Operations Workflows and Use Cases Scalable and Reliable.