Time Series Meetup: The Virtual Edition
We're a diverse bunch who have one thing in common: we want developer life to be happy and that means building better tools and understanding new concepts.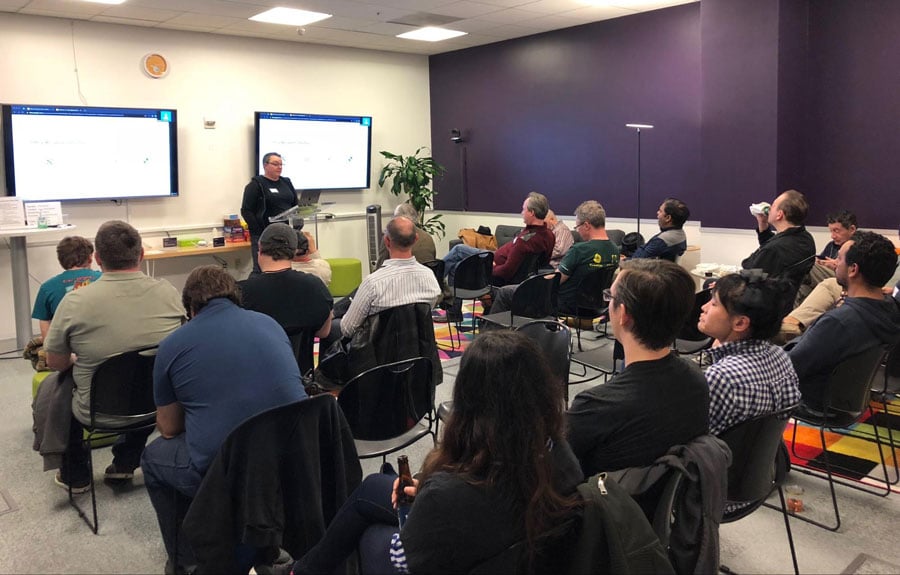 What are time series meetups?
Time series meetups are events for everyone who is passionate or curious about time series data and how it can be used.
Time series data is gaining momentum and we're set on exploring and pushing its boundaries by learning from each other's experiences. We're like NASA for time series but nobody has to sit on top of jet fuel.
Check out the next Virtual meetups below to find a time perfect for you. These sessions will be recorded and posted to our YouTube page.
Talk Title: Interactive Maps in 30 Lines of Code
Marko Letic | Tech Speaker at Mozilla, Lead Front-End Engineer AVA
Interactive maps are a great way to represent your data, and today more than ever, it's important to properly and effectively visualize geographic information to your users. Although projects like Google maps or MapBox provide great out-of-the-box solutions, sometimes you might want to avoid the hassle that comes from using these tools, especially if you are concerned about pricing due to high volume of traffic on your websites.
In this talk, I will explain how you can create your own SVG maps that are lightweight, easy to use, and very customizable. Using live examples, you will see step-by-step how to create a simple world map, and how you can style different parts of the map based on certain criteria using just CSS. All of that in just 30 lines of code!
Note: Basic knowledge of JS, HTML, and CSS is good to have for better understanding.
Marko Letic is a front-end engineer, lecturer and data visualization scientist. He is currently leading the front-end team at AVA, a Berlin-based company, where he is working on a platform that combines big data, pattern recognition and artificial intelligence to take the safety of individuals, organizations, cities, and countries to a whole new level. His main role is to create a contextual analysis of the processed data through a web-based client application. Marko is also working as a Tech Speaker at Mozilla promoting the values of the open web and he is one of the organizers of Armada JS, the first JavaScript conference in Serbia. He holds an MSc degree in Computer Science and is pursuing his PhD in data visualization. He sometimes writes fiction novels that probably will never get published as he spends too much time coding.
Past Events - June 25, 2020
Talk Title: Using a Raspberry Pi Cluster to Monitor with InfluxDB and Telegraf
Andrew Brower | Senior Software Engineer at Human Interest
Explore using Ansible and Docker to set up a Raspberry Pi cluster from scratch! Walk through building an affordable Raspberry Pi cluster, and using InfluxDB + Telegraf to monitor the cluster itself. See what a Raspberry Pi cluster can do, and how Ansible can automate configuring Telegraf on machines on your own network.
Andrew Brower is a Senior Software Engineer at Human Interest. His free time is often spent 3D printing. He is passionate about devops, monitoring and security.
Past Events - May 28, 2020
Talk Title: Introducing ClickHouse — the Fastest Data Warehouse You've Never Heard Of
Robert Hodges | CEO of Altinity
The market for scalable SQL data warehouses is dominated by proprietary products. ClickHouse is one of the first open source projects to give those products a run for their money. ClickHouse scales to hundreds of nodes with ingest measured in millions of events per second. The user community includes CloudFlare, Cisco, and numerous financial services companies. This talk briefly recounts the history of ClickHouse, starting with its origins at Yandex, then dives into popular features. These include column storage with efficient data encoding and compression, vectorized query execution, sharding and replication, and materialized views. We will end with a short survey of popular use cases and questions.
Robert Hodges is the CEO of Altinity, a venture-backed startup that markets ClickHouse to enterprises. He is also a database geek who has used or worked on over 20 different database systems. Other interests include distributed systems, Kubernetes, and open source. He is an organizer of the San Francisco ClickHouse meetup.
Past Events - April 28, 2020
Talk Title: Introduction to Time Series in a Practical Way
Saiyam Pathak | Software Engineer at Walmart Labs
In this session, Saiyam will discuss the what, why and how of InfluxDB time series database. The session will feature several demos on Kubernetes that can be performed by the viewers. He will also discuss Telegraf and its plugins and will use Kubernetes plugin as well during the demo(s).
Saiyam is Software Engineer of the large scale multi cloud kubernetes project, and works on Kubernetes at Walmart Labs with a focus on creating and managing the project ecosystem. Previously at HP and Oracle, Saiyam has worked on many facets of Kubernetes including scaling, multi-cloud, managed kubernetes services, k8s documentation and testing. He's worked on implementing the major managed services (GKE/AKS/OKE) in different organizations. When not coding or answering Slack messages, Saiyam works on contributing to the community by writing blogs and giving sessions on InfluxDB, Docker, and Kubernetes.
Past Events - March 31, 2020
Talk 1: Prophet for Forecasts with InfluxDB
Anais Dotis-Georgiou | Developer Advocate, InfluxData
Data collection is only half of the battle. The other half is being able to easily perform data analysis. FB Prophet aims to make time series forecasting simple and fast. We'll learn how to make a univariate time series prediction with Prophet and InfluxDB.
Anais Dotis-Georgiou is a Developer Advocate for InfluxData with a passion for making data beautiful with the use of Data Analytics, AI, and Machine Learning. She takes the data that she collects, does a mix of research, exploration, and engineering to translate the data into something of function, value, and beauty. When she is not behind a screen, you can find her outside drawing, stretching, boarding, or chasing after a soccer ball.
Talk 2: How to Grow Peppers Using InfluxDB
Aleksandr Tavgen | Software Architect, Playtech
Alex is a Software Architect at Playtech. His main points of interest are data science and machine learning, distributed systems, graph computations and domain design. Alex finds it hard to define where he is from, as he says: "I am some kind of nomad, digital nomad. I am from Tallinn, but lived in Germany, Sweden and the UK. I have been in in IT development for more than 17 years, but actually everything had begun much earlier. My classmate and I wrote our first game for Soviet computer when we were 13 — it was written on Basic. A spaceship bombed tanks while tanks tried to hit the spaceship." Having shifted from Developer to DevOps Engineer, Alex has always been interested in technology, development, math and computer science and has worked in diverse fields at all levels of abstraction, from micro controllers to high-level declarative programming and all points in between.