Event Highlights: InfluxDays North America 2021

Roadmap revealed, insight gained, connections made, and InfluxDB Challenge swag won — that's a wrap for InfluxDays North America 2021! The conference, which brought together the #InfluxDB community to exchange time series acumen and use cases, is always a reminder of why and how we've grown. It included subject-matter-expert led courses, on-demand videos and live sessions. Check out session recordings and presentations here. Recordings of the live sessions will be available November 5, 2021.
In less than a two-week span, we hosted the InfluxDB Challenge, two trainings and a 2-day conference dedicated to everything InfluxDB and time series data! Influxers and community members had a great time networking and learning from each other during our Meet the Experts series. Here's a recap of the event.
InfluxData and the #InfluxDB Community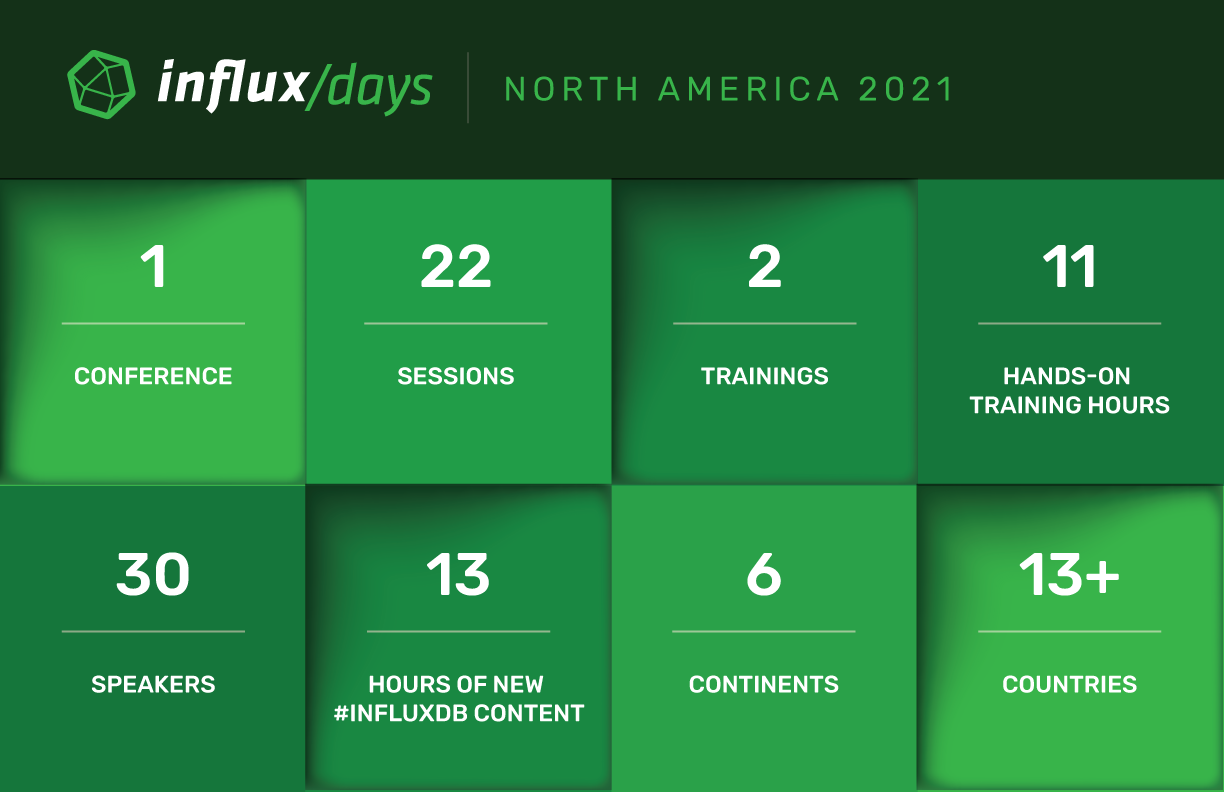 Trainings
Flux Training: InfluxDays North America 2021 kicked off on October 11-12, 2021 with our popular Hands-On Flux Training. Flux is InfluxData's standalone data scripting and query language that increases productivity and code reuse. Over the course of two days, students learned everything from Fluxlang core concepts to advanced topics like User Defined Functions, passing by basic queries to manipulate time series data. Check out the awesome dashboards students made using the InfluxDB UI!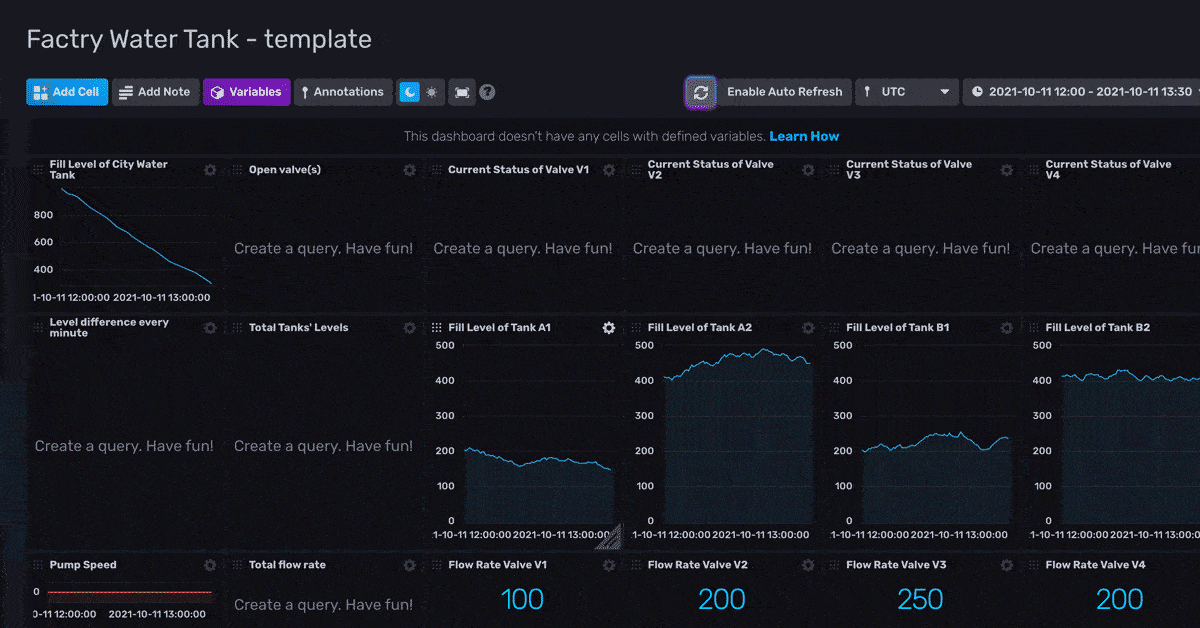 | | |
| --- | --- |
| Telegraf Training: On October 25, 2021, members of the InfluxDB community came together for a virtual Telegraf Training. This course provided everyone with a fantastic introduction to Telegraf – the open source server used to collect metrics and events from your stacks, sensors and systems. It is InfluxDB's native data collector with nearly 300 plugins. As Alan Pope, the engineering manager for Telegraf pointed out during the training, Telegraf builds nicely on the "super new M1 Macs"! | |
Day 1 highlights
Paul Dix opened the conference with an update on the future of InfluxDB. Thank you to everyone who asked Paul tons of questions about InfluxDB.
Tim Hall reviewed the InfluxDB Roadmap. Tim demonstrated where InfluxDB is today and where the product is headed in the coming months and years.
Bhagvan Kommadi covered a real-life experience related to building a DevOps Delivery-powered AI platform for doctors' community and telehealth support for patients during COVID-19 lockdown.
Vijeta Hingorani, Milos Pavkovic, Mladen Maric, Marina Svicevic profiled two projects. The first (transforming email reports into self-serving dashboards) involved generating query-based reports for the sales team replacing email reports. The second (detecting anomalies in-stream) involved detecting strange behaviors in graphs of data streams that are internally considered as anomalies.
Russ Savage showed how to get up and running by creating a Python application built on the InfluxDB platform; how to connect to InfluxDB from a client library; and best practices for user and data management for your time series application.
Tanny Ng and Nadeem Syed showed how WP Engine transformed their monitoring solution into an Observability Platform with InfluxDB, gaining better visibility and reducing infrastructure downtime. It was great learning about their journey that led them to InfluxDB - they are writing 5.5 million points to InfluxDB per minute!
| | |
| --- | --- |
| Alan Pope and Sebastian Spaink covered Telegraf plugins and InfluxDB client libraries as well as early access to release candidates. They highlighted recent updates to Telegraf - including the new JSON and XML parsers. Special shout-out to Sebastian for creating awesome Telegraf cartoons! | |
Scott Anderson closed out Day 1 by demonstrating how to generate and send notifications in raw Flux and familiarized the audience with patterns and functions built into Flux for sending alerts. He was worried about showing too much code - but we know our community loves it!
Day 2 highlights
Ryan Betts provided an engineering update on InfluxDB.
Martin Moucka discussed how Red Hat uses InfluxDB and Flux for better real-time monitoring of their networks to improve performance and to understand utilization better. Naturally, Red Hat appreciates the open source core of InfluxDB and the enterprise support. Martin demonstrated how they are monitoring 60+ sites, ~1,6k devices and ~14k interfaces with 5 collectors. Martin loves Flux as he finds it powerful and was impressed that it met his needs.
Timothy Spann from StreamNative discussed their edge applications, which classify images and sensor readings real-time at the edge and then send Deep Learning results to Flink SQL and Apache NiFi for transformation, parsing, enrichment, querying, filtering and merging data to InfluxDB.
Jacob Marble showed how to record metrics, logs, and traces with one library - OpenTelemetry - and how to store them in one open source database - InfluxDB/IOx.
Anais Dotis-Georgiou demonstrated how to learn Flux by example, using the NOAA dataset, enabling the audience to follow along as she went over some of the most common Flux questions from community members.
Brian Gilmore outlined the key components of architecture for capturing and analyzing IoT data at ANY scale and showcased how he has implemented these recommendations in his own lab. I personally enjoyed his references to aquariums and marine biology.
Michael Hall provided an update on the worldwide InfluxDB community. During this session, we learned that InfluxDB is running on all 7 continents. He also announced this year's Community Award winners! Congrats to this year's winners!
Hari Prasad Sudharshan and Ezhilmathy Shanmugam Veeramani showed how quickly, reliably and cost-effectively you can do data-driven software development by writing custom code. Hari discussed how he started mapping software development with a time series DB and created an IoT within a software development tool. He explains why he chose Flux over Python to determine mean, median, mode, and quantiles with Flux's built-in functions. Hari did a nice job using the Slack channel to make this session interactive.
Ana-Maria Calin demonstrated running InfluxDB OSS on a self-hosted cloud platform on Kubernetes and the process of migrating from OSS to the Usage-Based InfluxDB Cloud platform. Ana provided an amazing demo as part of her session!
| | |
| --- | --- |
| Our community loves their #InfluxDB swag! There are so many different styles of t-shirts, hoodies, socks and onesies in the wild! | |
InfluxDB Challenge
Attendees impressed us with their InfluxDB knowledge by participating in the InfluxDB Challenge. Congrats to the InfluxDB Challenge Extra Credit winner: Egor Morozovxx!
If you missed out on the InfluxDB Challenge — don't worry, you can still compete! Check out the contest details here.
InfluxDB Challenge extra credit winner: Egor Morozov shared this Data Transformation screenshot:

Thank you to the entire #InfluxDB community for attending and speaking at InfluxDays North America 2021. All sessions' recordings and slides will be available here by November 5 2021. It was a blast chatting with everyone on Slack, learning more about our community of developers and sharing with you the latest from InfluxData. Stay tuned to learn more about InfluxDays 2022!