Why a purpose built times series database?
Sensor data is all time-stamped to help you understand how your processes and equipment are doing over time to help further innovation and improvement.
What is the InfluxData IIoT monitoring solution?
The industrial world has a long history of modernizing processes in order to keep production running efficiently and safely while minimizing downtime. Yet many are locked in established data historian solutions that are costly and lack the methods needed to provide innovation and interoperability.
In contrast, InfluxDB — the open source time series database — inherently provides diverse design perspectives not available from a single software vendor. It provides the freedom to integrate with other solutions and allows you to adapt the code to fit your ever-changing system requirements.
Read how ADLINK uses InfluxDB IIoT solution, as a part of their ADLINK Edge™ IoT smart gateway solution, to store IoT data so that they can visualize it for monitoring and analysis, and also how RTI built a monitoring solution that meets the unique architectural requirements of monitoring IIoT data for its industrial customers.
Real-time monitoring with precision

Industrial systems have a wide range of devices and processes that need to be monitored at different time intervals, with added context, and with data from multiple data sources. InfluxDB supports precision down to the nanosecond and allows for downsampling of that data – for instance, high-precision data can be kept for a short period of time with longer retention periods for summary data at medium or lower precision. Adding context is easy to do and doesn't impact query performance.

Scalability

Collecting event data from your equipment is just the beginning. True digital transformation requires more data sources and more analysis of the combined data to gain a better understanding of your systems. InfluxDB is a high-performance data store written specifically for time series data. It allows for high throughput ingest, compression and real-time querying.

Open

InfluxDB is written entirely in Go and compiles into a single binary with no external dependencies. It provides write and query capabilities with a command-line interface, a built-in HTTP API, a set of client libraries (e.g., Go, Java, and JavaScript) and plugins for common data formats such as Telegraf, Graphite, Collectd and OpenTSDB. It also works with other open source projects like Chronograf and Grafana for dashboarding, and a set of plugins that act as an OPC-UA client and server.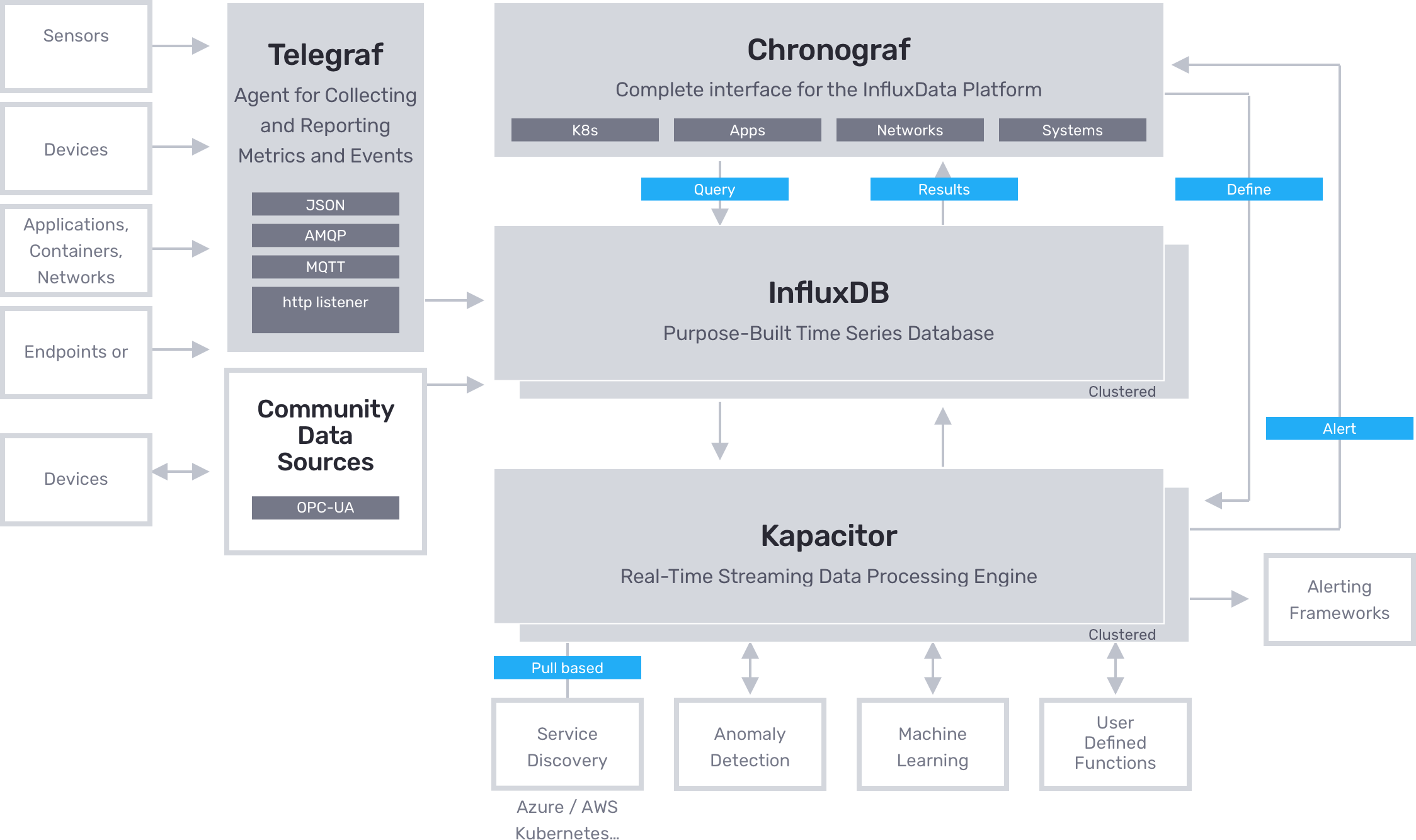 Components of the InfluxData platform
InfluxDB is the database and storage engine purpose-built to handle time series data: a perfect metric store for multiple data sources to help you avoid a siloed approach. In InfluxDB 1.x, Chronograf (visualization tool with pre-canned dashboards with the standard baseline for network monitoring) and Kapacitor (rules engine for processing, monitoring, and alerting) are separate components of the TICK Stack. InfluxDB 2.0 comes with Chronograf and Kapacitor built-in.
Telegraf is the collection agent with 200+ plugins and a vast client library, that can source metrics directly from the system it's running on, pull metrics from third-party APIs, listen for metrics via streaming consumer services, and support monitoring protocols such as AMQP, MQTT, JSON and http.
OPC Unified Access data ingest
There are a number of open source OPC-UA stacks that are available to help you collect data from your PLCs. These stacks use a variety of licenses and are written for languages like Python, C, C#, Javascript and even Golang. There is even an OPC-UA stack written by the team at Factry.IO that polls for the values on the PLCs then writes them directly to InfluxDB.
PLCs and SCADAs are standalone systems that traditionally do not require external data sources for real-time control of industrial process. However, there are cases where third-party data can be beneficial to the SCADA system to optimize the operation of assets. With InfluxDB, you can collect and analyze process inputs and outputs, and suggest optimized setpoints to the SCADA system with the OPC-UA server capability. Examples include using neural networks to analyze data or incorporating weather forecast data into the control mechanisms.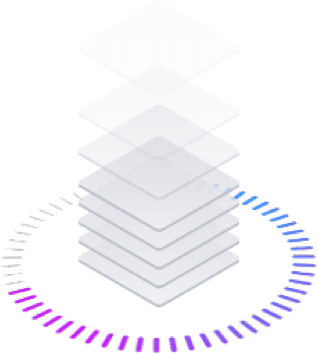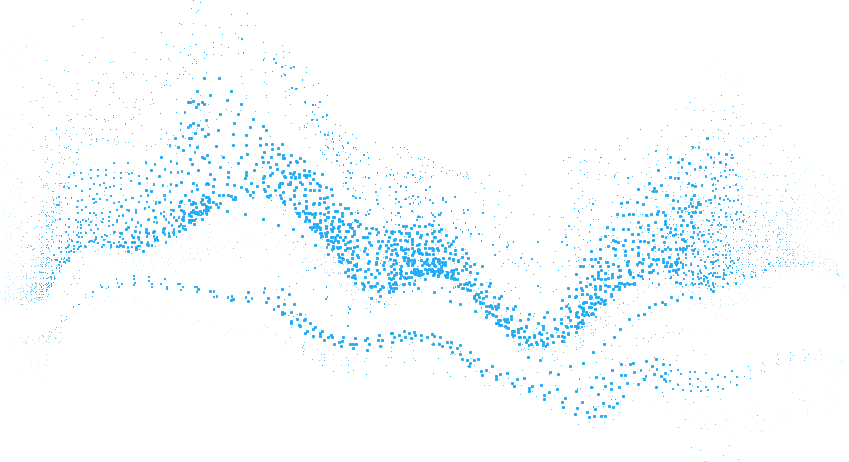 Industrial IoT monitoring news
I recently spoke with Jeremy White who is using InfluxDB to monitor his aquariums. By collecting IoT sensor data, he has been able to better understand his 200 gallon salt-water aquarium full of fish and coral. The entire project can be found on GitHub. Caitlin: Tell us about yourself and ...
I recently spoke with Alex Skrivseth, the Operations Manager at The Shed App, and discovered how he's using InfluxDB to monitor the current levels of gas and diesel at various gas stations. Simply by extracting IoT sensor data, he has been able to provide valuable previously inaccessible data to fuel ...
INDUSTRIAL IOT MONITORING SOLUTIONS
Connecting devices and tools on the factory floor is the next big thing when it comes to production. This new wave is perceived as so big that it is called Industry 4.0 or the 4th industrial revolution. It involves new security systems, Industrial Internet, cloud computing and AI and is based on 4 design principles of Interconnection, Information transparency, Technical Assistance, and Decentralized Decisions.