InfluxData Community Awards
We at InfluxData are pleased to announce that we're once again going to be giving out Community Awards to those who have made significant contributions to our products or community over the past year.
If somebody has helped you answer a question, solve a problem, or has built something cool and interesting that you think deserves some extra recognition, go and nominate them for an award now!
Previous Community Awards
The past 18 months have been quite a change for all of us, and with our normally in-person conference InfluxDays going virtual we wanted a way to give a little bit of extra focus on the people in the community who have been helping both InfluxData staff and InfluxDB users online over that time.
That led us to introducing the InfluxData Community Awards as a way for our staff and users to say "thank you" to the people who are helping to make our products and our community better. Award winners get a beautiful, personalized trophy highlighting their contribution, and more importantly the recognition and appreciation of the whole community.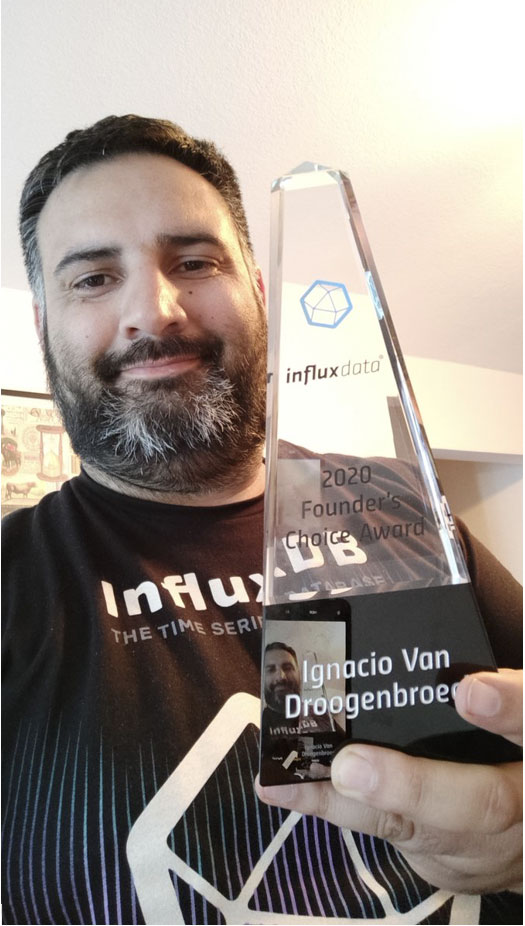 Last year's award winners have continued their contributions, with some even taking on larger roles. One joined the inaugural Telegraf Maintainers team, a joint project between InfluxData and community contributors to maintain and develop the Telegraf project together. The Founder's Choice winner even took a career change and joined us here at InfluxData to continue helping our users full-time!
2021 Community Award nominations
Now another year has gone by and we want to again recognize our community contributors, so we're seeking nominations for the following award categories:
InfluxDB - For general contribution to InfluxDB itself, including the UI, deployment configurations, documentation or tutorials
Telegraf - For contributing bug fixes, new features, plugins, documentation or tutorials
Flux Language - For contributing to the design and implementation of Flux, improvements to the language, extensions, documentation or tutorials
Community - For providing community support, events, engagement, promotions or any other activity that has helped us grow our global community
Anybody in the community can be nominated, and anybody in the community (or InfluxData) can nominate somebody. You can even nominate multiple people, for the same category or different ones. Once the nomination period closes on September 30th, the results will be reviewed and winners selected by InfluxData staff.
Submit a nomination today!
This is your chance to really say "thank you" and recognize somebody for the work they've done or help they've given you. Nominations have already started coming in, and we will be taking more up until September 30th, so go make your nominations now!
Don't forget to register for your free spot for InfluxDays North America so you can see the winners announced live on October 27, 2021! See you there!