InfluxDB Week in Review – Feb 13, 2017
In this post we'll recap the most interesting InfluxDB related content you may have missed in the last week or so.
Announcements, Blogs, Videos and How-Tos
Upcoming Live Webinars
Upcoming Virtual Training
Testimonials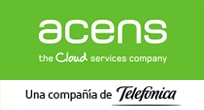 Acens uses InfluxDB and Grafana to measure everything. They like it because it stores a huge amount of metrics in a really small space and access in high speeds.
Acens is a Cloud service company based in Spain
Claim your InfluxDB Hoodie
Does your company have an application or product that uses InfluxDB in production? We'd love to feature it on influxdata.com and give you a shout out on social media. As a "thank you" gift, we'll send you an InfluxDB hoodie and a pack of stickers. Just fill out this simple form at the bottom of the page and we'll let you know when your entry is live and the hoodie is in the mail. Drop us a line at [email protected] if you have any questions. Thanks for the support!
Events