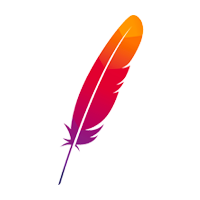 Apache Monitoring Integration
Apache is a popular web server, developed and maintained by the Apache Software Foundation. It is open source and runs on 60%+ of the webservers in the world. It is fast, reliable, and secure. It can be highly customized to meet the needs of many different environments by using extensions and modules.  By using Telegraf, Apache monitoring is possible.
Telegraf Input Plugin: Apache
The Apache input plugin collects server performance information using the status module of the Apache HTTP Server. Typically, the status module is configured to expose a page at the /server-status?auto location of the Apache server. The ExtendedStatus option must be enabled in order to collect all available fields.
In addition to the status module, Apache's access log provides detailed information about each client request. You can customize what information to include in your Apache logs to ensure relevance to your needs.
Knowing how well your webserver is handling your traffic helps you build great experiences for your users. In particular, Apache monitors uptime and performance of your web server, determines root cause of performance issues, and proactively monitors supporting components.
The following is a list of important metrics to collect:
Server metrics to maintain exceptional performance: throughput, latency, resource utilization, and activity metrics
Errors to point out misconfigured files
Apache HTTP Server Basics
The Apache HTTP Server is a powerful, flexible, HTTP/1.1 compliant web server that is highly configurable and extensible with third-party modules. It implements the latest protocols and can be customized by writing 'modules' using the Apache module API. The Apache HTTP Server also provides full source code and comes with an unrestrictive license.