Why use InfluxDB with Google Data Studio
Google Data Studio is an interactive dashboard tool that turns any internet accessible data source into informative dashboards that are easy-to-build, share, and derive powerful insights from your data. The easy-to-use point-and-click UI makes it possible for anyone with the curiosity to drill down into their live datasets and build dashboard and reports with interactive controls such as data selectors, column sorts, and page-level filters. It also has support for calculated metrics and calculated fields. The InfluxData platform comes with a Google Data Studio connector that allows users to query time series data from their InfluxDB instance to build these Data Studio dashboards. Within these dashboards, users can pull data from their InfluxDB instance as well as from multiple other sources such as Google Big Table, Big Query or even Firebase to build comprehensive dashboards that help developers understand the complete picture of their solution.
How to use the InfluxDB Google Data Studio connector
Getting started with InfluxDB and the Google Data Studio connector is simple. First, you need to get an instance of InfluxDB and add your data. You can do this by creating an account with InfluxDB Cloud. InfluxDB Cloud starts with a free tier that offers a generous amount of writes and queries to InfluxDB from your Data Studio dashboard. Alternatively, you can also download and use the latest beta version of InfluxDB 2.0 to build your dashboards upon.
Once you have your instance ready, you can start collecting your time series data with one of the 200+ Telegraf plugins, client libraries or 3rd party data collectors. You can then use the Certified Direct Connection with the Google Data Studio API to create your first dashboard. Once you have added the InfluxDB connector, you will need to provide your InfluxDB connections details including:
InfluxDB URL
Token
Organization
Bucket
Measurement
Once your InfluxDB instance is connected, you can see a list of fields available from your Measurement (tagset, fieldset, and timestamps). From there, you can start building your dashboards.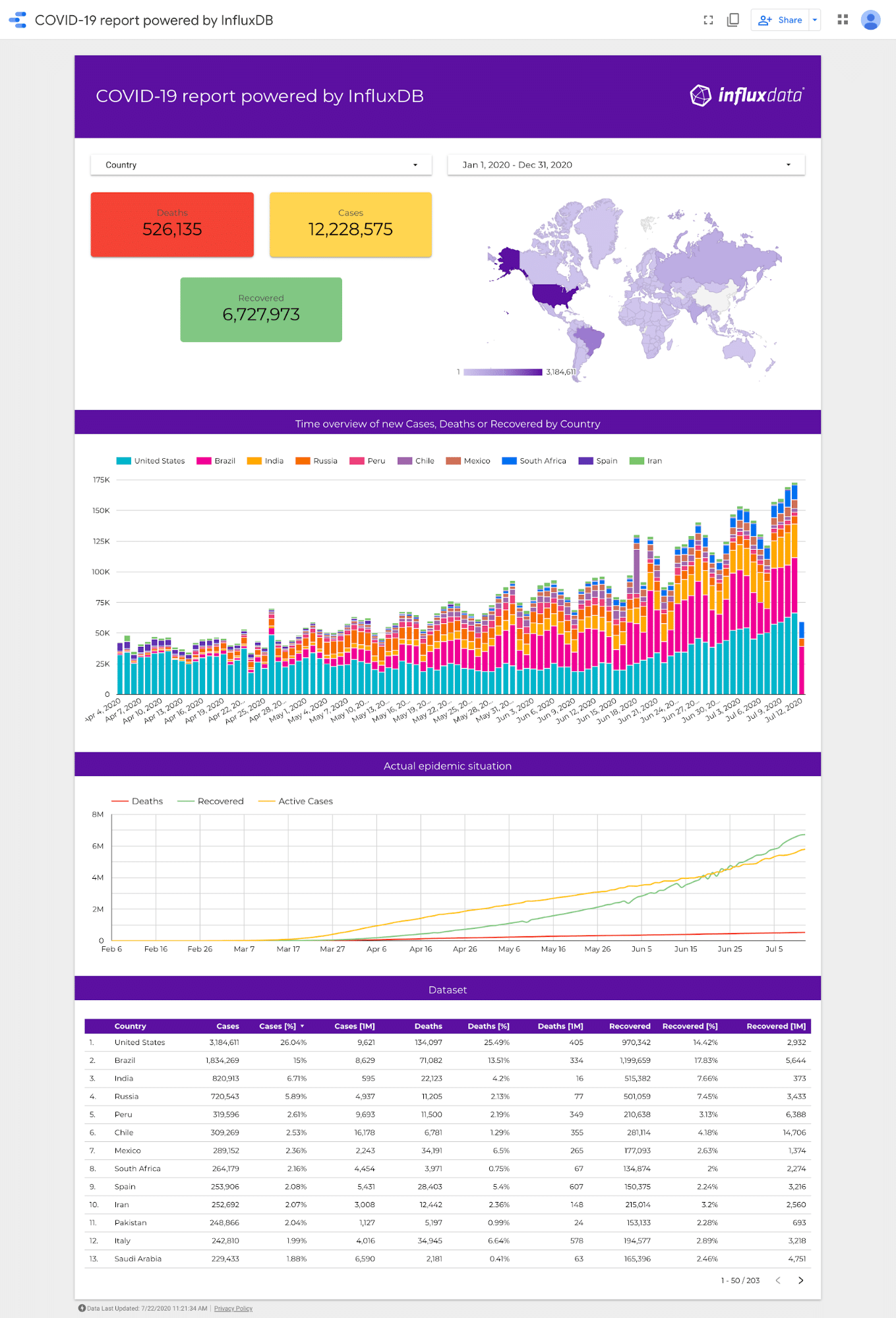 COVID-19 Data Studio Dashboard powered by InfluxDB
Get more details in the GitHub repository on the InfluxDB Connect for Data Studio.
Check out this Data Studio dashboard powered by data from InfluxDB.
Over 200 Telegraf plugins make it easy to pull data into your InfluxDB instance that can then be visualized in your Data Studio dashboards.