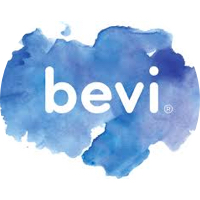 Bevi, founded in 2013, makes internet-connected "smart" office water coolers that provide still, sparkling, and flavored water on-demand. Bevi's coolers, called Bevis, purify water directly from the tap, and then through a touchscreen interface, let users create customized drinks, from regular purified water to sparkling water to cucumber water, coconut water, and a wide variety of other healthy flavored drinks. The Bevi touchscreen is the data capture tool.
Customer Success Story: Bevi
At its core, Bevi is an environmental company that set out to entirely eliminate disposable bottles from the beverage supply chain. Bevi's goal is to take all the drinks that one can only get in a bottle today and provide them, or provide even better drinks, without the need for disposable bottles or cans. Available in classic Standup format as well as all-new smaller Countertop format for small spaces, Bevi is the still and sparkling, multi-flavored, eco-friendly, healthy water cooler that never runs out.
The Challenge
Bevi wanted to connect its "smart" water coolers to the internet to fulfill its mission of reinventing the wasteful beverage supply chain. To achieve that, Bevi needed internet-connected coolers that would provide data to uncover beverage trends, alert when stocks are running low in the machine, and enable proactive machine servicing before drinks run out.
The Result
Bevi uses InfluxData to gather metrics and events to remotely conduct real-time data analysis so that it can understand how its water coolers are performing. Remote monitoring frees the Bevi team from having to push upgrades manually and visit every cooler in person.
Using InfluxData, Bevi was able to adopt a distributed supply chain and thereby help eliminate plastic bottles and make the best drinks instantly available, through a touchscreen, using purified tap water and natural ingredients.