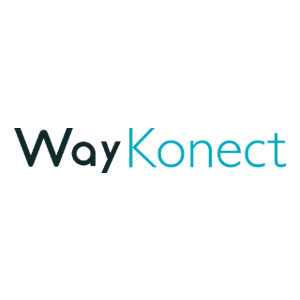 WayKonect is a Lille startup specialized in fleet management. Their focus is on data analysis and actionable intelligence from vehicles and they take a driver-oriented approach to the field. WayKonect sets itself apart by offering proactive tools that optimize all aspects of fleet management to maximize performance and minimize costs. Their tools analyze driving behaviors and provide real-time coaching tips to help drivers improve fuel efficiency and safety. They deliver these insights through a multiplatform mobile app, and take care to safeguard driver privacy.
Customer Success Story: WayKonect
WayKonect wanted to build an intelligent, driver-centric fleet management solution that would comply with GDPR data privacy requirements while enabling transparency within the company. To achieve that, they needed to automate raw telemetry storage using a highly scalable and available time series database that would meet their high ingestion and variable retention requirements. WayKonect chose InfluxDB Enterprise, the Enterprise edition of InfluxDB time series database, to gather data and turn it into insights to help drivers improve fuel efficiency and safety.
Read Case Study    Watch Webinar   Read Blog
The Challenge
WayKonect has a very driver-centric approach since drivers are responsible for more than 50% of any cost incurred for a vehicle — be it the way it's driven, how much it's driven, to gas behavior and even accidents sometimes. WayKonect's motto is "enabling privacy while promoting transparency within an organization." They promote transparency about how a car is used, why it is used and how it's maintained. Privacy is very important to WayKonect, especially in France and in Europe. So their solution, as its core, allows end users (drivers) to request not to be followed for geolocation at their own request. Despite not being able to follow drivers in that case, WayKonect still needed to aggregate data on how much kilometers were driven, how the car was driven, and how much gas was consumed so that everybody in the company has a clear picture of car usage and driver performance. That's one of the pain points WayKonect was trying to solve for companies given cars' high cost of purchase and maintenance. WayKonect needed an automated way to store and aggregate vehicle data in real time while maintaining data privacy in compliance with GDPR requirements and efficiently handling geotemporal data.
The Result
InfluxDB, because it scales well, has freed WayKonect to focus on growth rather than worry about how to scale its infrastructure. In June 2018, WayKonect was acquired by Total, a pioneer in the fuel card market and related tools business. This acquisition was an acknowledgement of the value and professionalism of WayKonect's solution. With this acquisition, Total has boosted its digitalized B2B fleet management offer, and Total's B2B clients now benefit from additional expertise developed by WayKonect. WayKonect, Total's connected fleet management process, saves time and money in managing vehicle fleets. WayKonect delivers advantages for fleet owners, fleet managers and drivers. Its proactive tools optimize all aspects of fleet management, both maximizing performance and minimizing costs.