IoT monitoring and analytics
There are projected to be nearly 60 billion connected IoT devices by 2025. This data is streaming in real time and will force companies to determine which IoT data platform architecture will be resilient, scalable, and extensible enough to handle these new workloads.
Nearly every available surface in the physical world is being instrumented with sensors — streets, cars, factories, power grids, ice caps, satellites, clothing, phones, microwaves, milk containers, planets, even human bodies.
By 2025, there's projected to be nearly 60 billion connected devices around the world, the vast majority of which will be connected to IoT platforms. These connected IoT devices will generate nearly 80ZB of data – at these workloads, a purpose-built time series database will be ideal to provide real-time insight and analytics from your IoT sensors and devices.
Monitoring and tracking

Tracking battery performance, turbine production, package delivery status and generally visually monitoring sensor data provides incredible capabilities to the business and their customers. This is usually the first step in any successful IoT project.

Analytics

Using historical data from sensors to gain insights that can be applied to the current situation creates a major competitive advantage. Predictive maintenance, optimized traffic routing, reduced churn management, and enhanced water conservation are all possible with IoT analytics.

Action and control

With the speed and velocity of events being generated by sensors, businesses want to act on this data in real time with no human interaction. For example, automatically shutting down a pump if a leak is detected, or changing wind turbine direction based on forecasted wind speed, all create an immediate business advantage.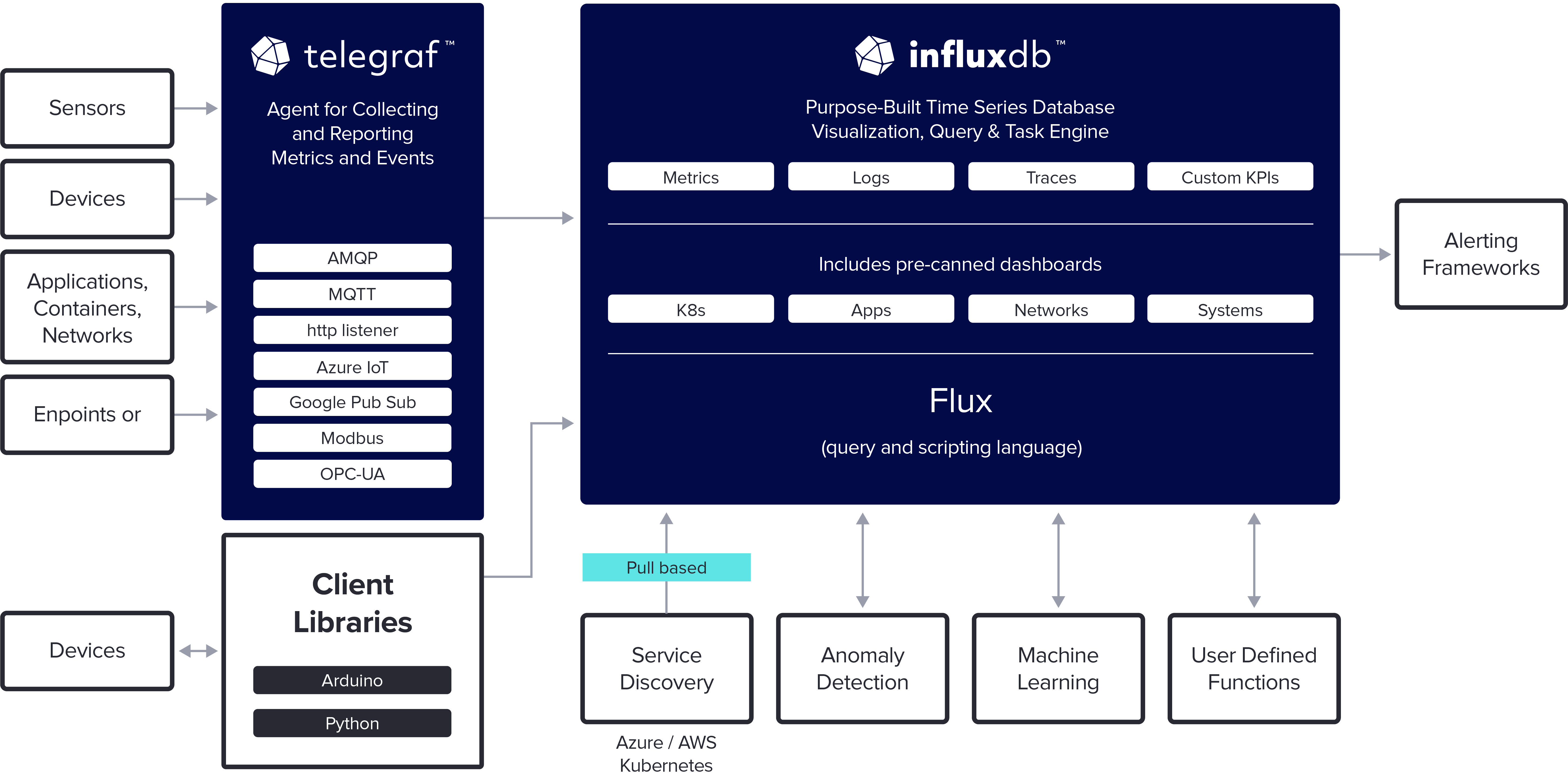 InfluxDB is built for time series data.
All process and event data collected from your sensors and devices includes a value and a timestamp to show trends per sensor or across a collection of sensors and devices. Examples of this data include:
Instrument readings (flow rate, valve position, temperature)
Performance monitoring (units/hour, machine utilization vs. capacity, scheduled vs. unscheduled outages)
Environmental readings (weather, atmospheric conditions, groundwater contamination)
Production status (machine up/down, downtime reason tracking)
When you consider the various types of sensor data and how they are used, and the fact that sensors can capture changes in the physical world at a single point in time — it quickly becomes clear that sensor data is time series data.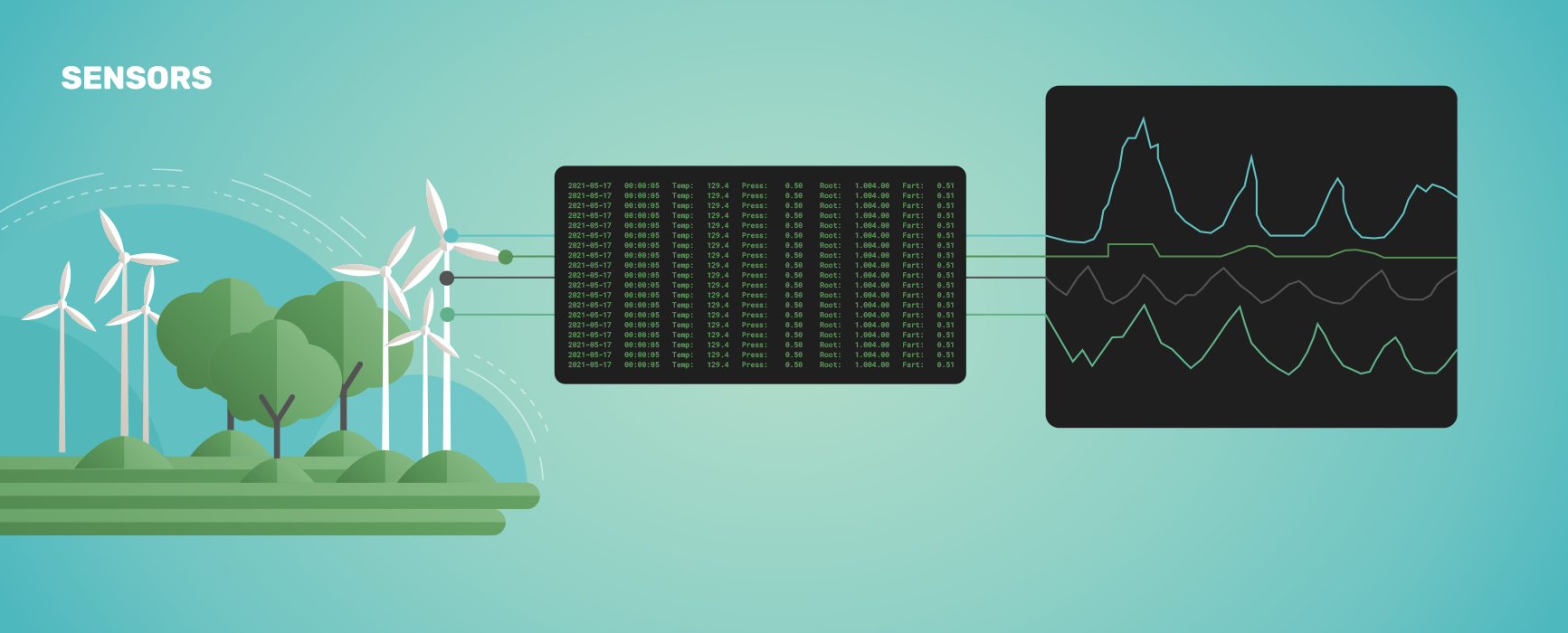 IoT sensors produce time series data.
Although sensor data is time series data, not all time series data is the same. If you take a look at DevOps data and compare it to IoT data, you can see that there are some differences in resolution and the goal of the data:
| | DevOps | IoT |
| --- | --- | --- |
| Metrics | cpu load, disk I/O, database stats | temperature, pressure, flow, valve state |
| Resolutions | seconds to minutes | (sub) seconds |
| Retention | weeks,then downsampled | 5 to 10 years, no downsampling |
| Main goals | Incident detection, performance monitoring | Quality guarantee, predictive maintenance |
In either use case, the amount of time series data can be large, but the shape of the data is varied. Regardless, InfluxDB can handle these differences with ease.
Components of the InfluxDB platform
Built for developers, InfluxDB is central to many IoT solutions providing high throughput ingestion, compression and real-time querying of that same data. Efficiency and effectiveness have to start in the data structure, ensuring that time-stamped values are collected with the necessary precision and metadata to provide flexibility and speed in graphing, querying and alerting.
Developers using the InfluxDB platform build their applications with less effort, less code, and less configuration.
Unrestricted developer productivity
Start from the UI or look under the hood to access raw code and the API. Collaborate with teammates to build and run applications with time series. There are also a set of client and server libraries in everything from React, JavaScript, Go, Python and more.
Vibrant community
The Influx Community is diverse and highly motivated, making contributions in code, documentation, and advocacy for the InfluxDB and Telegraf projects.
Powerful ecosystem
Streamline your workflow with over 200 Telegraf plugins, integrations with Grafana, Google Data Studio, or data sources like Google Bigtable. Popular Telegraf plugins for IoT applications include: