InfluxDB is a time series database designed to handle high write and query loads.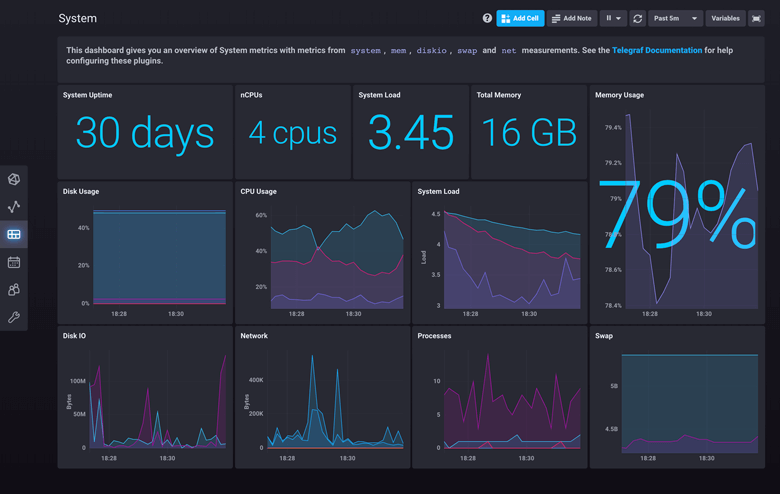 What is InfluxDB 1.x?
InfluxDB is the open source time series database that is part of the TICK (Telegraf, InfluxDB, Chronograf, Kapacitor) stack.
High performance
InfluxDB is a high-performance data store written specifically for time series data. It allows for high throughput ingest, compression and real-time querying. InfluxDB is written entirely in Go and compiles into a single binary with no external dependencies. It provides write and query capabilities with a command-line interface, a built-in HTTP API, a set of client libraries (e.g., Go, Java, and JavaScript) and plugins for common data formats such as Telegraf, Graphite, Collectd and OpenTSDB.
SQL-like queries
InfluxDB works with InfluxQL, a SQL-like query language for interacting with data. It has been lovingly crafted to feel familiar to those coming from other SQL or SQL-like environments while also providing features specific to storing and analyzing time series data. InfluxQL supports regular expressions, arithmetic expressions, and time series-specific functions to speed up data processing.
Downsampling and data retention
InfluxDB can handle millions of data points per second. Working with that much data over a long period can lead to storage concerns. InfluxDB automatically compacts data to minimize your storage space. In addition, you can easily downsample the data; keeping high-precision raw data for a limited time and storing the lower-precision, summarized data for much longer or until the end of time. InfluxDB has two features that help to automate the downsampling and data expiration processes — Continuous Queries and Retention Policies.
The TICK Stack
Collectively, Telegraf, InfluxDB, Chronograf and Kapacitor are known as the TICK Stack.
The TICK Stack is a loosely coupled yet tightly integrated set of open source projects designed to handle massive amounts of time-stamped information to support your metrics analysis needs.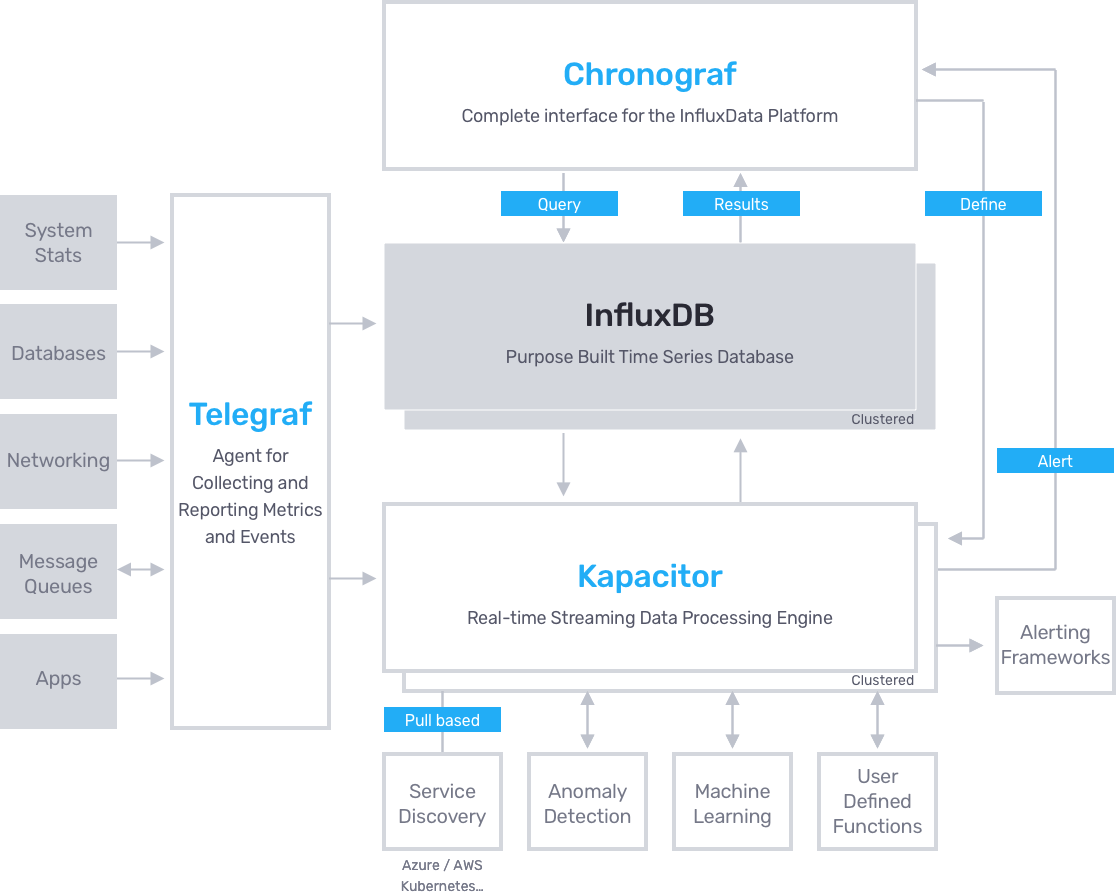 "It used to be, without having this level of insight into where your expenses were at, it was sort of just a black box," says Robert Allen, director of engineering at Houghton Mifflin Harcourt (HMH) and part of the company's Bedrock Platform Technical Services team....
A new maintenance release is available for InfluxDB Enterprise: InfluxDB Enterprise 1.7.8 — release notes This maintenance release of InfluxDB Enterprise 1.7.8 includes all of the following fixes contained within InfluxDB 1.7.8 OSS: Removed stray debugging print lines...
GETTING STARTED WITH INFLUXDB
This training will show you how to setup Telegraf to pull metrics into InfluxDB and will give a brief overview of how to use InfluxQL to query the data. After this training, you should be well on your way to using InfluxDB.
Available as InfluxDB open source, InfluxDB Cloud & InfluxDB Enterprise