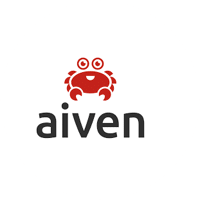 Aiven is a next-generation managed cloud service hosting for software infrastructure services. Their focus is on ease of adoption, high fault resilience and peace of mind. Aiven is a true Database-as-a-Service and includes advanced service options like the InfluxDB time series database and Grafana data visualization toolkit.
Customer Success Story: Aiven
Aiven offers InfluxData and Grafana as a service on multiple clouds in 47 different data centers around the world. Their focus is on ease of use while offering advanced features like online plan upgrades and no-downtime migration from one region to another.
"InfluxDB offers great performance with compact database sizes, allowing using a long metrics history while maintaining high sample time resolution for the most recent data points," said Mika Eloranta, co-founder of Aiven, "Downsampling older metric points with 'Continuous Queries' is a breeze."
Aiven began using InfluxDB for their own monitoring purposes and found it so great that they started offering it to their customers as well.